Turn up the heating Winter has arrived!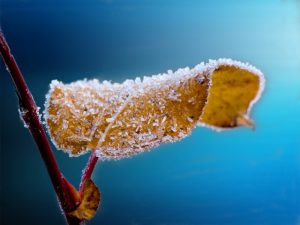 As winter rolls in and temperatures drop, while it looks as if all activity in the garden has stopped, there's a lot going on under the soil until it freezes. Fear not you can prepare your garden with these helpful tips.
Trees and shrubs which were newly transplanted some perennials and even the hardier of bulbs are all growing roots, drawing on soil nutrients and moisture around them. Even the animals like earthworms and various microbes (yes all gardens have them) in the soil are still processing the organic material they're finding.
Plants need protection from the cold, frigid weather. Perennials are the easiest of all to prepare for winter; they simply need a little cutting back and mulching to protect from the cold winter ahead, but may need a little more maintenance if they are used to warmer climates.
Mulch bulb beds with fallen leave or evergreen small branches etc to protect the soil. Of course plants, especially small, shallowly-planted bulbs, can be lifted for storage. Dig up other bulbs you wish to replant and gently brush off any excess dirt, wrap in newspaper and store for spring.
Make sure you store your bulbs in a breathable container, such as a cardboard box; storing the bulb in a plastic bag will cause the bulb to rot. Place newspaper in between the layer of bulbs—the bulbs should not be touching.
Choose a cool, dry area to store your bulbs.
Trees need to be transplanted focusing on shrubs and especially young trees – of course this only works if you have the space!  Make sure to water ahead of the ground freeze, they will like a lot of water!  When the first freeze starts to hit, add the mulch when the first frosts hit making sure its at least 6 inches thick – chopped leaves perfect. Always good to add some fertiliser before mulching.
Of course the quickest, easiest, less mess and way to the perfect finish is to call us to do it for you……!
Paul Dunne Landscaping on 045 8451727 or 086 2844175
Comments